PAG HARDEEP SINGH
PAG Hardeep Singh, a member since 2002 is TRF (The Rotary Foundation) Chair and member of the board for Rotary year 2021 – 2022.
He was President in 2015-16 term, has served on the board for 15 years; as Service Projects director for 3 consecutive years, Youth Service Director for 3 terms and many other positions. He has been actively involved at District level as Assistant Governor in 2018-19, District Youth Service Chairman 2017-18 and District Commitee Rotary-Rotaract 2020-21 and currently serving on the District TRF Committee. Prior to becoming a Rotarian, he was a Rotaractor, President of the Rotaract Club of Kuala Lumpur and an Interactor while in school.

He is an economist by training and a banker by profession. He has more than 25 years of working experience. An expert in investment strategies and corporate advisory.
Currently, Hardeep is the Strategic Research Head at MUFG Bank. Speaks fluent Japanese, has helped hundreds of Japanese corporations to set up their manufacturing facilities in Malaysia, providing advisory to Japanese corporations including resolving corporate issues and as chief economist, regularly presented papers on economics and policy matters at their quarterly corporate seminars.

In his personal time, he likes to read, write on social media, watch documentaries and help in community focused agendas. Very much a family oriented person, goes all out to ensure everyone is taken care and no one is left alone. During the pandemic, he has picked up a few new skills and helped many affected individuals.
---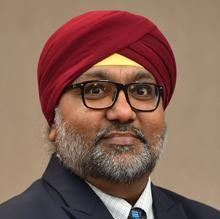 We Make An Impact.
We Take Action.